News & Awards
Larson now has professional registration in 9 Canadian provinces and 2 territories!

Larson now has professional registration in 9 Canadian provinces and 2 territories!
---

One World Trade Center named tallest building
It's official!! One World Trade Center (St. Louis Office) has been named the tallest U.S. Skyscraper. Check it out here.
---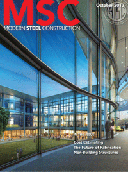 Maryland Heights Office featured in Modern Steel Construction magazine
The Yale School of Management (Maryland Heights Office) was featured on the cover of this months Modern Steel Construction magazine and is set to open up January 2014. Check this out to read more about it.
---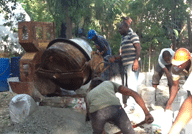 Haiti Project
Patrick O'Brien (St. Louis Office) recently traveled to Petion-Ville, Haiti to inspect a 1,400 sq. ft. physical therapy clinic currently under construction. The clinic is being built for an organization called the Global Therapy Group. www.globaltherapygroup.org. This organization has provided daily physical therapy services to Haitians since the January 2010 earthquake. Patrick is an active member of "Engineers without Borders". With the help of the St. Louis office, Patrick performed the structural design and furnished the structural design drawings for this charitable project. The St. Louis office was proud to donate to this cause.


---

Kevin Nelson Featured in Prairie Business Magazine
Larson Engineering and Kevin Nelson from the Bismarck office were recently featured in Prairie Business Magazine. Read more about it here.
---

One World Trade Center and Museum nearing Completion
As we recently reflected on the 12 year anniversary of the September 11th attack on our country we can also celebrated our resilience as a nation. The two new World Trade Center Towers and underground museum is nearing the finish line.  One World Trade Center is expected to be finished in early 2014 and 4 World Trade Center will be opening this fall. The underground Museum is set to open next spring.  Check out this link to see a slideshow and time-lapse video by NBC that shows the work at the site over the years.


---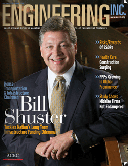 Publications
Jeff Holcomb (Corporate Office) was part of a research team that recently had an article published on midsized firms and their endangerment in Engineering, Inc. and ENR magazines. Both articles are available online: Engineering, Inc. Magazine [For this version, click on the cover where it says "Study Shows: Midsize Firms not Endangered" it will take you to page 38 and the article.] ENR Magazine.The authors will also be presenting their findings at the Annual ACEC Fall Conference on Oct 28th in Scottsdale, Arizona. Phase 2 of the study will be starting soon with talks of a book coming out in 2014.
---

Larson welcomes a new Regional Manager

Larson welcomes Trevor Ley as the Regional Manager in our Denver, Colorado office. He has over 20 years of experience in the Power, Pulp & Paper, Heavy Industrial and the Oil & Gas Industries. Trevor's primary expertise is in air quality, air emissions and air pollution control equipment for industries across the United States. His experience and expertise will allow us to offer a wide-range of services to our clients in the Rocky Mountain area, North Dakota, and other parts of the country.


---

Larson welcomes a new National Oil & Gas Program Manager

Larson welcomes John Stevenson as the National Oil & Gas Program Manager. He will be working out of our Denver, Colorado office. John brings over 30 years of environmental and engineering experience in the Oil & Gas Industry as well as other industries across the United States. As Larson's National Oil & Gas Program Manager, John will be responsible for leading and building our oil & gas practice. His focus will be the Rocky Mountain region, the Upper Midwest/Midwest, the Southwest, and the Southeast United States.
---

Michael Murphy appointed Office Manager of our Des Moines, Iowa office

Larson announces Michael Murphy will run the new Des Moines, Iowa office. He has been with Larson for 9 years. He brings the expertise needed to extend our Iowa borders. With over 14 years of experience, Michael's projects have included site design for redevelopment projects, athletic facilities, educational facilities, municipal buildings, office complexes, and residential subdivisions. He is also a LEED Accredited Professional experienced in the incorporation of sustainable design elements and documentation using both the LEED and B3 Sustainable Building guidelines.
---

Larson welcomes a new Regional Manager

Larson welcomes Kevin Nelson as the new Regional Manager in the Bismarck, North Dakota office. He has worked as an engineer in the Bismarck area for nearly 25 years. Kevin has a deep and broad experience base in civil engineering, from roadway, rail, and airport transportation to water transmission and distribution, and sewage collection and conveyance. Kevin has developed more than 1,000 acres of commercial, residential and industrial sites, taking them from raw land to fully-developed properties. He has spoken at conferences on topics related to municipal engineering, airport engineering, and site development.
Larson's track record of solid growth means opportunities are constantly arising for people interested in pushing the limits of their potential. We hire the best and see that they stay with us. Larson also offers a competitive benefits package.
To learn more browse our open positions, apply for a position or call us to find out more.